Our Miss Brooks: Connie's New Job Offer / Heat Wave / English Test / Weekend at Crystal Lake
Alistair James cements its aesthetic with 'Sisters of The Moon' at LFW AW18
The Alistair James woman: Mystical, romantic and esoteric
The AW18 collection underlines the ongoing development of the designers overall aesthetic, which has taken a dramatic, dark yet feminine turn. Who is the Alistair James woman, I wonder. "She's always very mystical, very esoteric," explains David on the Alistair James women. "But functionality wise we want her to be able to wear something to multiple events, something which can go from day to evening, so we try to make sure our designs offer that - well apart from the evening dresses." "But with some sunglasses and flat shoes who knows, adds Nicholas with a laugh. "We wanted to capture that aspect in middle range but with full-on glamour, something that you can just throw on and look amazing and be done." The brand's silhouettes have also evolved over the seasons, as the pair feel more and more comfortable experimenting with new looks in their collection. "We feel more comfortable to do things like half blazers and giant gowns with trains and ruffles. I feel like we have found more of our aesthetics now, which is romance, so now we can explore and revel in that," says Nicholas.
Discovering and playing with the brand's look and feel has been the fun part for them, but now David and Nicholas are setting their sights on strengthening the brand from a business perspective to ensure their future growth. "We are keen to grow slowly, to learn to walk before we run," says David, adding "I have to be honest, this was the season of the business plan for us." Both David and Nicholas are keen to take Alistair James to a place of growth but want to make sure they do not grow too fast and harm the future and longevity of their business. "We don't want to stifle ourselves by being a 'yes man' and saying yes to so many things and completely swamp ourselves until there's nothing left and we can't do it anymore - you see that happen so many times with new brands," says Nicholas. "It's a business at the end of the day, it's about managing your cash flow - you have production, sampling and developing fabrics all at the same time, so you have to manage it all."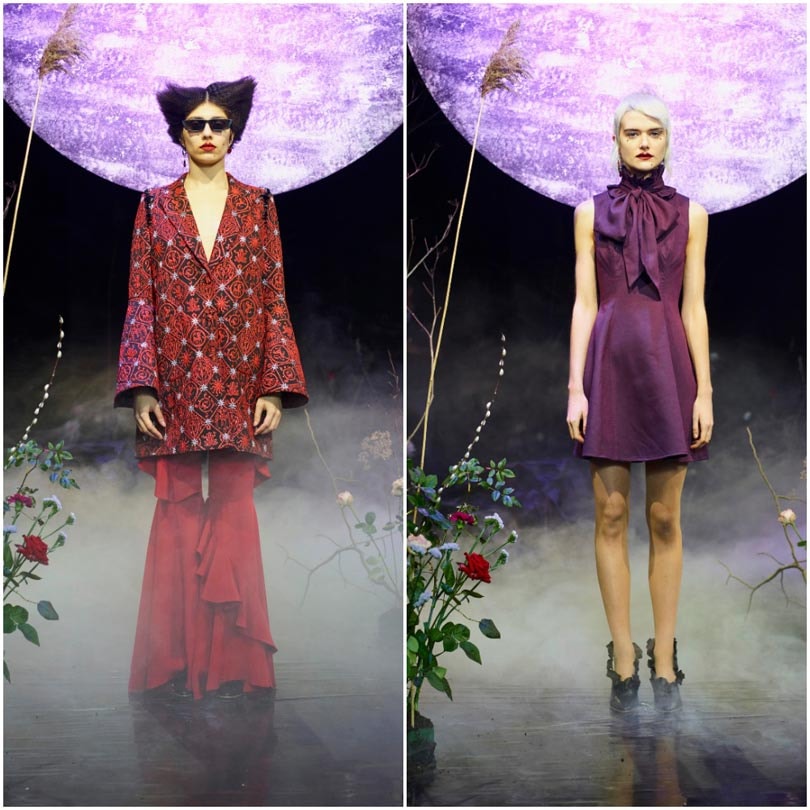 Being named as one of the winners of the 2019 Boden Future British award, in partnership with the British Fashion Council, has also provided them with a bit of a learning curve. Not only will Alistair James receive financial support to grow their business, they also will receive mentoring as well as support to grow their e-commerce. "It just feels fantastic because we have the support now, it's like they are cheering you on," says David. Alistair James was showing their AW18 collection at the designer showrooms, under Boden Future British section, which has also strengthened their feeling of being part of a wider industry. "It feels very unifying this season as well showing at the designer showrooms. You don't feel like all these tiny little brands all competing against each other, you feel like you are all in it together which is really nice. With Anya Hindmarch doing her love hearts all over the city, things like that make you feel connected. The giant wall when you come into the Strand, with all the names of the designers showing is also great."
Alistair James - one of London Fashion Week designer brands to watch
For Nicholas, seeing the name Alistair James next established designers such as Gareth Pugh has an even deeper meaning, as he used to work for the brand. "Coming from working with Gareth Pugh, to setting up your own label and then seeing Alistair James next to Gareth Pugh - it just makes you feel like you are doing something right that we are moving in the right direction." So what is next for the young label? "We are trying to ensure we remain on schedule for next season until the presentation and fully develop that concept while growing sales - getting more stockists as well is key for us," concludes Nicholas. At the moment Alistair James is stocked at Shop at the Bluebird, Farfetch, and Liberty, but following their stellar presentation, the label has peaked some more interest.
Video: Новата булчинска мания – Eко Сватба
Alistair James cements its aesthetic with Sisters of The Moon at LFW AW18 modern
Alistair James cements its aesthetic with Sisters of The Moon at LFW AW18 modern
Alistair James cements its aesthetic with Sisters of The Moon at LFW AW18 modern
Alistair James cements its aesthetic with Sisters of The Moon at LFW AW18 modern
On the site you you can see trends shoes, which wear people in 2019
Fashion week
Alistair James cements its aesthetic with Sisters of The Moon at LFW AW18
for lady
2019 year for women- Alistair James cements its aesthetic with Sisters of The Moon at LFW AW18
Alistair James cements its aesthetic with Sisters of The Moon at LFW AW18 forecast to wear in summer in 2019
Buy Alistair James cements its aesthetic with Sisters of The Moon at LFW AW18 picture trends
Alistair James cements its aesthetic with Sisters of The Moon at LFW AW18 best photo
photo Alistair James cements its aesthetic with Sisters of The Moon at LFW AW18 modern collection
dress - Alistair James cements its aesthetic with Sisters of The Moon at LFW AW18 video
Discussion on this topic: Alistair James cements its aesthetic with Sisters , alistair-james-cements-its-aesthetic-with-sisters/
Related News
Men's Fashion Basics – Part 41 – An Introduction To Colour
Pepe Jeans India appoints Sartaj Singh Mehta as VP, Design
I Tried on 50 High-Street Dresses to Work Out Which Ones Go With Tights
The Fashion Bomb News Breakdown: Kanye West Commissions Kardashian Warhol Painting, Another Factory Fire in Bangladesh, and Miley Cyrus makes TIMEs Best and Worst Dressed' Lists
Cambridge Satchel Company settles copyright row
Copenhagen fairs consolidate their international standing
30. Unique Writing Desk
New Year, new you – make 2014 your best year yet
10 Reasons Why You're Losing Sleep
55 fashion companies sign milestone sustainability covenant
China splurges on worlds biggest online shopping spree
All the Best Red Carpet Looks From the 2019 BAFTAs
53 Fancy Ginger Hair Color Shades to Obsess over: Ginger Hair Facts
Think Pink – Precious Gems in Pink Hues
Tommy Hilfiger picks London for first show outside US